Archive for
March, 2012
Wednesday, April 11
Tink's Rock House - A Night of Comedy & Metal
151 South Main St.
Marion, OH 44032
740-751-6007
8pm
Thursday, April 12
Grim's Roadhouse - A Night of Comedy & Metal
390 Route 30
Imperial, PA (just outside Pittsburgh)
Tix only $8 available at www.showclix.com/event/DONJAMIESON
Friday, April 13
Ripper Owen's Tap House - A Night of Comedy & Metal
Akron, OH
www.ripperowenstaphouse.com
FREE
And, of course, all confirmed shows and appearances can be seen in the gigs section – http://www.donjamieson.com/site/gig-dates/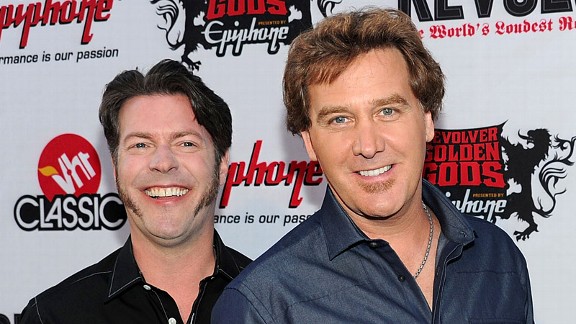 Lately, comedians Don Jamieson and Jim Florentine are most recognized for "That Metal Show," the popular music talk show they host on VH1 Classic with SiriusXM DJ Eddie Trunk. But their passion isn't limited to music, or comedy. Emmy Award winners for their work on HBO's "Inside the NFL," Jamieson and Florentine are both full-time sports fanatics, especially football.
Jamieson bonded with his father over sports, woefully inheriting his allegiance to the New York Jets. For Florentine, it was game programs and stickers, sent from an uncle in Miami, that made him a lifelong Dolphins fan.
So far, 2012 has been a big year for the New Jersey funnymen. Their respective albums, "Live and Hilarious" and "Cringe 'n' Purge," have heard praise for Jamieson and Florentine, ranking high on the Billboard and iTunes sales charts. Last month, they shared the bill for several shows with their comedy idol, Andrew Dice Clay. Last week, "That Metal Show" filmed its 10th season.
ESPN sat down with Don and Jim to talk football, sports talk radio and their proper viewing etiquette for the big game.
A lot of people don't realize you have a football background with "Inside the NFL."
Jamieson: We did, like, sports-themed comedy sketches.
Kind of like Frank Caliendo on Fox?
Jamieson: Without the impressions, 'cause we have no talent at impressions whatsoever. [Laughs] We just did these real edgy, comedy-themed sports segments that would air once a week throughout the season.
Florentine: Yeah, like we took a bunch of Dallas Cowboys offensive linemen to an all-you-can-eat buffet. At the end of the bit we all pulled our chairs up and just started eating right from the buffet. [Laughs]
Jamieson: Just to see if it [really] was all you can eat.
Was it?
Jamieson: Not when you bring 2,000 pounds worth of men, no. They seemed to get a little uptight about that.
Make sure to check the GIGS PAGE to see the latest confirmed performances. New stand-up shows have been booked all over the US, plus two special shows in Seattle and Portland; A night of Comedy, Music, and a discussion of all things Metal with Don Jamieson, Jim Florentine, and Eddie Trunk!